ProjectOverview
The Northern Peninsula
Primarily characterized by the hotel and villas on the southern side.
207 rooms
3 luxurious suites
3 restaurants
2 bars
Conference rooms
SPA & Wellness Center
Yacht Marine(10 parking lots) 16 Marine + 4 Luxury Villas each with its own swimming facility.
The Southern Peninsula
Dominated by the family hotel and villas that lay beneath it on the east side.
250 rooms
Suites
Bars
Restaurants
Amphitheater
Conference rooms
SPA & Wellness Center
2 Yacht Marinas(90parking lots) 33 Mediterranean Villas each with its own swimming pool.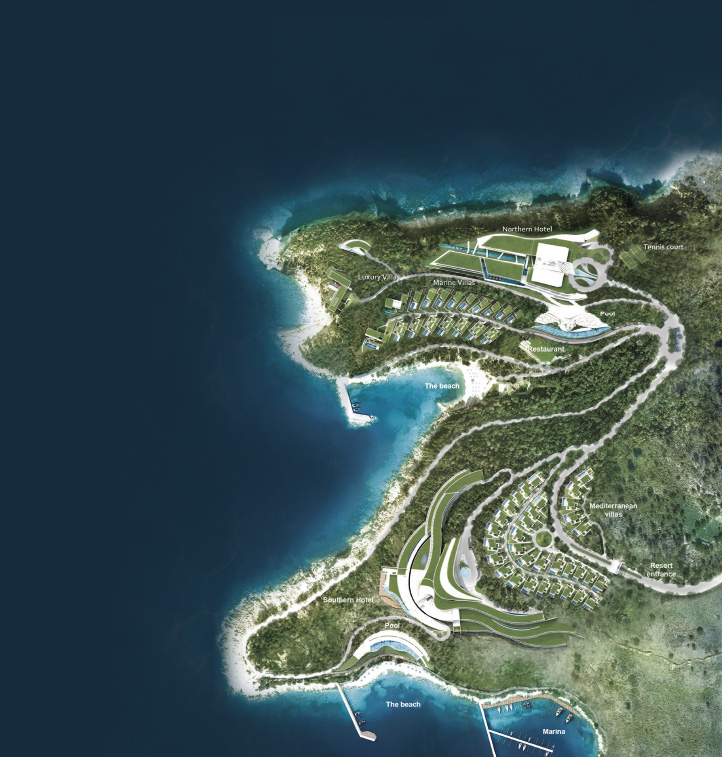 About Kep Merli
Exploring the southern coast of Albania, sunshine, deep blue water and ancient paths of history blend with one another in the highest state of tranquility. Saranda excels at providing its visitors and inhabitants with these three fundamental elements at their best, making the city one of the most prominent touristic destinations in the country. The islands of Ksamil and their incomparable beaches and vegetation are an added value to the town's offerings.
Right in the middle of this natural haven, lie the two peninsulas, facing just 2 km to the north, the ancient island of Corfu.
The area's immense cultural heritage can be absorbed from both sides of the Ionic sea, as the ancient city of Butrint, a UNESCO World Heritage site, is located right next door to the peninsulas. Tales of Illyrians, Greeks, Romans, Byzantines, Venetians, Ottomans and Britons, have been left undisturbed for curiosity to explore, in a crossroad where centuries intersect to resonate throughout eternity.
This magical place was given the name of "Kep Merli" or Blackbird Cape, after the bird colonies inhabiting the myrtle shrubs in the area centuries ago. These dense myrtle shrubs that dominated the land, also referred to as the mythical plants of Aphrodite, were regarded as a symbol of well being and profound beauty. Local inhabitants named the site "Blackbird Forest".
The ecological approach to architecture used throughout the resort's conception, has enabled the construction of a natural system with carefully applied human values, encouraging the blackbirds to return once again. Respecting nature remains the ultimate guideline to our concept of a harmonized 21st century sustainable architecture.Supporting the site's natural ways will create a circle of reciprocal caring between the ecosystem and its inhabitants. This requires blending both local and international expertise, craftsmanship and resources.
Development Team
Boiken
Boiken Developments is a well-known Albanian real estate investment company focussed on producing single and mixed-use developments of exceptional quality. Boiken Developments stands out amongst its competitors by focussing on quality rather than quantity. Design excellence is the cornerstone of every project. Boiken's success lies in the details, achieved by working closely with the best local and international architects and designers.The company's hard work is driven by restless creativity and the strive to ensure the best prices and quality for their clients. Continuous collaboration with premier subcontractors and raw-material suppliers distinguishes Boiken projects from all other developments in the country.